Project: Messari Protocol Services
Author(s): Jack Purdy, Director of Business Development (jack@messari.io)
Summary
We are proposing that Messari provide Sia with in-depth data analytics and research. This would serve to better inform existing stakeholders as well as attract new ones. while building out the open-source data infrastructure for the community.
These reports would live as free resources on Messari and would be distributed through our newsletter, social channels, and third-party distribution partners including Bloomberg, S&P Global, and Refinitiv.
Abstract
We will provide the following deliverables:
Initiation of coverage report discussing

What Sia is building and why it matters
Protocol mechanics and token economics
Implications of the upcoming technical upgrades

4 quarter reports beginning in Q1 that present and analyze major KPIs and fundamental metrics. This will include:

Storage capacity
Active storage deals
Utilization rate
Network growth
Storage contracts
Storage price analysis
Storage provider revenue
Other Sia-specific KPIs
The report will also delve into major governance developments, upgrades, and key roadmap initiatives on a recurring basis. Examples include: Filecoin, The Graph, Livepeer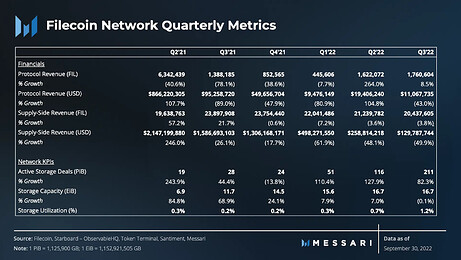 The reports will be distributed to a wide crypto native audience through the Messari newsletter (comprising 300k investors and builders in the space), along with three of the largest traditional research platforms in the world.
S&P Global

Capital IQ: 12,000 enterprises

Bloomberg

Bloomberg Terminal: 325k users

London Stock Exchange LSE (formerly Thomson Reuters)
Motivation
This proposal is designed to improve the data analytics and research available to the Sia ecosystem, including core on-chain metrics, governance initiatives, and core protocol developments. This will enable existing stakeholders — whether it's infrastructure providers running nodes, projects using the network, or investors providing capital — to make better informed decisions to guide the strategic direction of the protocol.
In addition, this will grow the Sia ecosystem by attracting new stakeholders. Without adequate investor relations services and standardized reporting, it can be difficult for new entrants to find reliable data with the necessary context and gain actionable insights. We aim to create the 10-Q equivalent in the same way anyone can go to Apple's financial statements to learn more about the company and its performance, anyone can publicly see Sia's reports to learn more about the protocol and observe its performance. Over time, this will bring more stakeholders into the ecosystem who will be more likely to contribute value to the protocol, allocating their time and money to grow the network.
Lastly, not only are we creating these reports but we're ensuring they get sent out to a wide audience that can consume them. This is done through Messari's channels of ~300k crypto natives builders and investors as well as through our distribution relationships with Bloomberg, S&P, and Refinitiv. This goes a long way to further professionalize Sia to the world outside of crypto including major funds, banks, financial service companies, and large corporatesthat will better grasp the magnitude of economic activity generated by the protocol. As more of these players are getting involved in crypto (ex Polygon/Starbucks or KKR/Avalanche) they'll be able to expend substantial resources investing and participating in the on-chain economy.
Budget
We are requesting $30k upfront and $30k at the beginning of each of the next 3 quarters payable in stablecoins. The grant will be used to fund internal resources. Which include:
Research - Our analysts spend several weeks researching the protocol both quantitatively and qualitatively along with an extensive internal editing and review process by the broader team.
Data science and engineering - We have dedicated data scientists and engineers focused on pulling the raw data directly on-chain and putting it into a usable format. This includes coordinating with external data partners to ensure all relevant metrics are included
BD/Distribution - We have a dedicated team working on distribution for these reports across all of Messari's channels along with the third-party partners
Rationale
Investor relations are a critical function of any organization whether it's a traditional company or a Web3 protocol. Hiring in-house to perform these functions would be significantly more expensive (and wouldn't have the distribution) but Messari is able to achieve economies of scale having done quarterly reporting for ~40 projects.
Other Web3 protocols are investing substantial resources into these services with examples including:
MakerDAO has a Strategic Finance team doing their reporting for $1.3 million/year.
Aave is spending $1.5m on similar services
We recognize this is not apples to apples and these scopes are broader than just reporting/analytics but I think it showcases the substantial work that goes into these types of services.
Deliverables
Initiation of coverage released in March with the first quarterly report following shortly after the end of the quarter (3/31). The next 3 quarterlies will follow a similar cadence.
Contributors
Lead
Mihai Grigore - Senior Analyst focusing on key metrics and technical understanding of Web3 protocols. He previously worked in data science at UBS and Swiss Re, and started two tech ventures. Mihai completed his PhD in information systems at the Swiss Federal Institute of Technology Zurich (ETH Zurich). His background is in computer science and math.
Additional Contributors
Mike Kremer - Data Engineer
Ryan Celaj - Research Analyst